Training & Competition Gi Review of the Competidor Gi / Kimono
This post will be a review on the new Mean Tech & Mad Flow Competidor Competition Gi / Kimono
"Theres nothing a good day of grappling cant cure."
last night we had an awesome training session at the Guam Purebred Academy on Guam.
Doing gi here in the islands is a love and hate relationship.
I love the heat (island boy for life :P) but with a heavy kimono, it doesn't make training enjoyable. For those of you that train in a hot tropical place… you know what I mean!
Yesterday, Coach Steve Roberto had us get in groups of 3. "Alright ladies and gents! Get into a groups of 3 with your partners same size and skill level."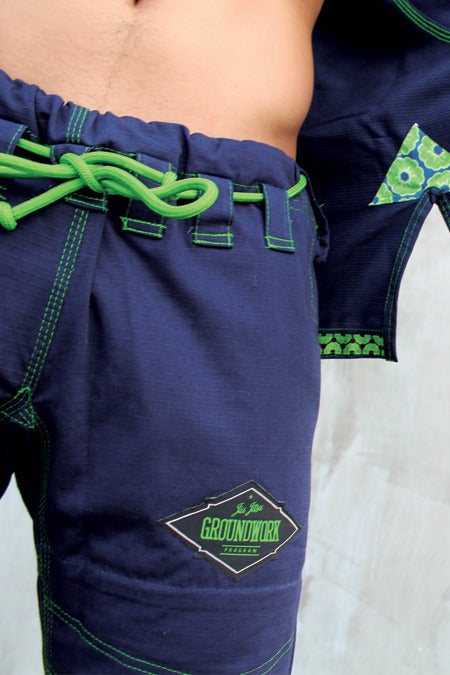 I partnered up with two killers by the name of Eric Sian (BJJ Brown Belt, BJJ World Champion, Tokyo Open Gold Medalist) and Alan Cepeda (BJJ International Medalist)
We were smashing each other heads to the mat for 2 mins at a time.
Although it was SUPER DUPER HOT, I was using the new Mean Tech Competidor Gi / kimono and as hard as I was pushing it was pretty cool.
I really love the rip stop pants (is that how you spell it? lol) that they changed from their past few gis! AWESOME!!!
The hard training session wasnt so bad because of the competidor gi I was using.
INVEST IN YOUR JIUJITSU!
"The MEAN TECH." Offered in a stunning Navy Blue, the "Mean Tech" is a full Cut & Sew project by Competidor Brand. The uniform boasts a very clean and detailed design that embodies both style and functionality. Tailored for optimal play, The "Mean Tech" features include quality construction, reinforced stitching, and supreme craftsmanship. The "Mean Tech" is available for a limited time in a limited run of ONLY 200pcs.
DETAILS:
Color: Navy Blue with Green and White contrast stitching
Weave: PEARL | 450 Gram | Lightweight
Pants: Newly Constructed 10oz Ripstop
CLICK THE PICTURE BELOW!
Jacket:
– Light weight 450g lightweight soft pearl weave fabric
– One piece jacket with no back seam
– Ripstop outer material // Rubberized Lightweight EVA foam collar
– Beautiful Black and Yellow contrasting color stitch
– Heavy reinforced seams
– Tailored Cut & Sew Fit
– Custom Inner Taping & Lining
Pants Features
– 10oz RIPSTOP Pants
– Triple Gusseted Crotch
– 7 Point Loophole System
– Thick drawstring
– Competidor Brand's "Flying V" kneepad construction
– Heavy reinforced seams
– Tailored Cut & Sew Fit
– Custom Inner Taping & Lining
Extras:
– Quality Embroidery
– Triangle Jacket Ripstops
– Green Contrasting Stitching
– Full Detail inside and out
– Fully Sublimated Nylon Kimono Bag with heavy drawstring
Competidor Kimonos Premium Size Chart
Size Height Weight
A00 – 4'8″ – 5'3″ 90 – 115 lbs
A0 – 5'0″ – 5'4″ 100-130 lbs
A1 – 5'4″ – 5'8″ 125-160 lbs
A2 – 5'8″ – 6'0″ 155-195 lbs
A3 -5'11"-6'3″ 190-225 lbs
A4 -6'2″ – 6'5″ 220-250 lbs
A5 -6'3″ – 6'8″ 245-270 lbs
To See if the Mean Tech Competidor Gi Is Still Available! OUUUS
TAGS: competidor gi reviews, competidor kimono review, competidor review, how are the competidor gis, how do competidor gis fit, ibjjf gi regulations, mean tech competidor gi